Hal's Construction Offers Expert Parking Lot Seal Coating Services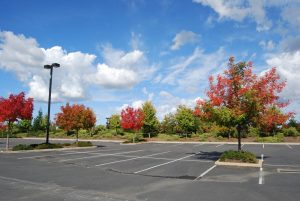 Today, astute business owners and property managers rely upon asphalt seal coating services to help maintain the useful lifespan of driveways, parking lots, and other blacktopped locations. The periodic application of a high quality asphalt emulsion helps prevent weather-related property damage and gradual deterioration. Keep these surfaces in an attractive condition in Oregon and Washington with the assistance of a skilled paving contractor like Hal's Construction.
Why Parking Lot Sealcoating Matters
Today, a variety of sealants and industrial coatings help businesses preserve useful surfaces in a more functional condition. Asphalt sealcoating performs a valuable role in property maintenance by ensuring landlords don't receive frequent complaints about potholes, cracks, and invasive weed growth on parking lot surfaces. Instead, the application of a high grade coating product helps reduce expensive maintenance obligations during the course of a typical year.
Optimize Cost-Effectiveness

By asking Hal's Construction to re-apply a specially formulated asphalt emulsion coating to paved areas every three years, property owners in Portland and Vancouver manage improvements more cost-effectively. Hiring a contractor to fill in potholes makes little financial sense when a property management firm enjoys the capability to prevent destructive cracks and crannies from developing on paved surfaces in the first place. The old adage "an ounce of prevention is worth a pound of cure" holds value in this situation. Just a few of the enterprises which benefit from this service include office buildings, retailers, transportation companies, educational institutions, shopping malls, and apartment complexes.
Benefits of Parking Lot Sealcoating

Online and newspaper classified ad sections in this region occasionally carry advertisements for "parking lot seal coating Oregon City" or "sealing asphalt Portland" services. Why? This type of assistance provides some important benefits for well-managed business enterprises:
Coatings using high quality asphalt emulsions improve parking lot appearance;

The process helps maintain the useful lifespan of your asphalt;

An emulsion coating helps prevent the development of cracks, potholes, and invasive plant growth;

Coating asphalt usually proves more efficient than contracting for emergency parking lot repair or replacement.
Request Well-Qualified, Experienced Seal Coating Assistance

Since this part of the Pacific Northwest sometimes experiences challenging winter weather conditions, it usually makes sense to protect parking lots through the regular application of seal coatings at recommended intervals. Instead of responding to sporadic ads for "parking lot sealcoating Oregon City", experienced property managers and business owners rely upon the experienced personnel from Hal's Construction to provide this service on an ongoing basis. Contact the company at 503-226-4999 to request service in the Greater Portland, Oregon and Vancouver, Washington Metro Areas.