Commercial Concrete Services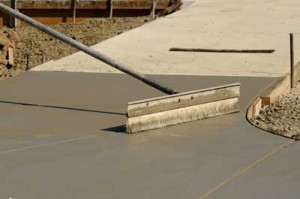 Concrete is the building block of our modern economy. Hal's Construction is the commercial concrete contractor that Portland area businesses, agencies and industrial facilities depend on for superior concrete pouring and finishing services. The commercial concrete services professionals at Hal's Construction have met the commercial concrete needs of the greater Portland, Oregon area for more than 50 years. Commercial enterprises take business seriously, and that includes the contractor they choose to install, repair and maintain their concrete facilities.
Commercial Concrete Contractor
When a business is ready to upgrade or expand its facilities, retaining an expert commercial concrete services company is indispensable. The concrete work needs to meet or exceed the highest professional standards. Modern businesses simply can't afford failed inspections or wasted time. Everything, including materials and craftsmanship, must be first class. That's what commercial enterprises need, and that's exactly what Hal's Construction delivers.
New Construction
Sidewalks
Walkways
Loading ramps and docks
Truck terminals
Manufacturing facilities
Commercial concrete pads
Hal's Construction possesses the expertise, experience and equipment to provide superior commercial concrete services. Commercial structural concrete pouring and finishing requires a commercial concrete contractor that has seen and done it all before. Hal's Construction is a family-owned business that has played an integral role in the enormous growth of the Portland area economy over the past forty years.
Respected Commercial Contractor
A commercial concrete contractor doesn't stay in business long by doing poor quality work. Word tends to get around, and getting work without professional referrals and references is next to impossible. Project management is a vital aspect of any commercial construction project. Scheduling and budgeting practices often determine whether a construction project comes in on time and under budget. Most everyone is waiting on the concrete, so designing, setting up, pouring and finishing a concrete job on time is crucial
Hal's Construction has an unsurpassed portfolio of successfully completed commercial concrete projects in the greater Portland area. The Hal's Construction team can provide commercial concrete services for any business or industrial application, including crawl space, poured wall and spread footings. Concrete slabs for basements, warehouses, slab on grade, post tension and other commercial and residential slab applications are also available. Project specifications are taken seriously, and quality is never sacrificed.
Concrete Finishing Services
Portland area businesses, government agencies and industrial plants can rely on Hal's Construction to provide premium concrete pouring and finishing services. Hal's Construction provides an unwavering guarantee on all materials and craftsmanship. Call (503) 226-4999 today for a free project consultation and estimate.