Drainage Control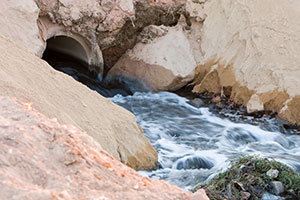 Drainage control is an important aspect of excavation and construction.
Hal's Construction professionals are experts at implementing proper water management in line with client considerations. Considerations include factors the following factors:
Placement
Type of water capture
Dependability of functions during all-weather scenarios and events
Water separation needs
Storage implementation for future water use technology, and
Aesthetics
Hal's Construction offers a variety of options to clients for the development of land and structures. The company offers different types of water collection and control structures and include features like:
Bio swales
Storm drains
Detention ponds or basins
Catch basins
Rain gardens
Controlling Water Collection and Use
There are three key considerations in design implementation for the capture of water overage Options for drainage design structures are built around the following concepts:
Conventional
Shallow
Controlled
Each of the above three concepts provides clients different ways of optimally meeting project objectives for future water use. Client objectives often include the following concerns:
Storm water separation of pollutants
Flooding alleviation
Drainage control, reliable and quick
Infiltration enhancement during storm water collection
Minimal impact upon beautification of existing land development
The professional experts at Hal's Construction understand that controlled drainage is important to client considerations for land use and development. Improperly controlled drainage can be devastating to land use, inconvenient to client operations and expensive to correct for customers.
Hal's Construction contractors and managers can negate problems associated with water collection and land development by providing the best services, advice and design implementation for client project needs.
Bioswales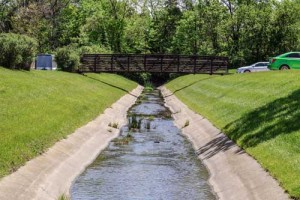 Bioswales are a great option for reliable stormwater management systems as they are efficient and reliable in controlled drainage of storm runoff in Portland, OR. This type of drainage control works well in tandem with other drainage techniques depending on your unique controlled drainage needs. Generally speaking, bioswales are intended to collect, slow, and filter storm runoff away from various places including parking lots and other paved areas, parks, residential complexes, highways, and more.
Once the bio swale has collected the excess storm water, the sediments of the water are secured by the soil and the remaining runoff is then dispersed into drainage pipes beneath the bio swale controlled drainage system. The drainage pipes are linked to the city stormwater system which will guide the filtered water to its final destination. Bioswales are wildly popular because they are an environmentally friendly bio filtration system for excess storm water in.
Hal's Construction offers complete and competent bio swale design and installation services for the greater Portland, OR area including Beaverton, Tualatin, and Gresham to fulfill your drainage control needs. Bioswales are known for their numerous benefits including:
Separation of pollutants from stormwater
Success in alleviating flooding
Reliable drainage control
Enhanced stormwater infiltration
Unique bio swale designs appear as an attractive landscaping feature
Storm Drains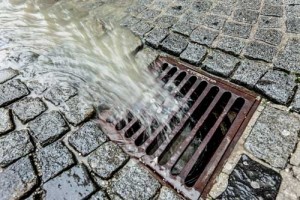 Storm drains are engineered to collect and direct excess storm runoff away from populated areas and are known to be extremely successful for drainage control efforts. This drainage method is most commonly installed near parking lots, sidewalks, and areas with paved spaces.  Hal's Construction has the expertise to design a customized storm drain system for your Portland, OR commercial needs. Unlike bio swales that filter water sediments and silt before sending the water off on its way, storm drains direct stormwater to its final destination untreated.
For competent installation of customized storm drain systems for your controlled drainage needs, Hal's Construction offers competitive pricing and superior construction of drainage systems in and around commercial parking lots and subdivisions. We are familiar with building and city codes with the experience to pull permits and schedule inspections when needed. When you need reliable drainage control, storm drain systems designed by Hal's Construction is guaranteed to give you the relief you need. Benefits of storm drain installation in Portland, OR include:
Increased road safety
Flooding prevention and alleviation
Ability to collect and redirect large quantities of storm runoff
Building and property protection
Effective stormwater management
Detention Ponds/ Detention Basins
A detention pond, or detention basin, is a drainage control alternative in dealing with the collection and storage of heavy storm water. Detention ponds are intended to provide relief from intense rainfall by collecting excess storm runoff and they come in two distinct options; wet detention ponds and dry detention ponds. Wet detention ponds appear to be shallow ponds and typically have standing water year round. Dry detention ponds collect stormwater and delivers complete controlled drainage between 48-72 hours depending on the amount of rainfall.
Hal's Construction proudly offers design and installation services for both types of detention ponds. After a thorough assessment of your drainage control needs, we can work together to determine which option will best meet your needs. Detention ponds are similar to bioswales in that they collect storm water and slowly drain it while separating harmful pollutants and silt before reaching its final destination. The benefits of detention pond installation in Portland, OR including Beaverton, Tualatin, and Gresham include:
Filters stormwater
Beneficial to the ecosystem
Can be designed to be aesthetically pleasing
Dry detention ponds provide large recreation space in between storm events
Most successful at alleviating large quantities of stormwater
Catch Basins
Catch basins are an integral part of the most effective stormwater management and drainage control systems in the Portland, OR and surrounding areas. These catch basins are usually installed curbside and act like large traps that collect debris, dirt, trash, and other miscellaneous items that may clog or inhibit drainage pipes from directing overflow storm water. Catch basins are effective in both large scale and small scale uses. Hal's Construction will design you a full proof control drainage system that will strategically place catch basins in the most advantageous places to get the most efficient drainage control possible. Some catch basins also boast filtration systems as well. If reliable controlled drainage is important for your property, consider catch basin installation. Many folks in the Beaverton, Tualatin, and Gresham areas have discovered the many benefits catch basins provide to drainage control efforts call Hal's Construction now to experience the difference for yourself.
The benefits of catch basin installation for your control drainage efforts include:
Significant support for drainage control systems through clogging prevention of underground drainage pipes
Protects property and landscaping from flooding
Prevention of sewer clogging
Effective water filtration
Reduces foul odors
Successful in solving a variety of drainage problems
Rain Gardens
Rain gardens are an attractive alternative to other controlled drainage methods in Portland, OR. Like the name suggests, rain gardens are actually gardens that are a depression in the soil, that collect excess storm water which typically results in an array of bountiful local vegetation species. Rain gardens are best for smaller quantities of overflow stormwater and work wonderfully in drainage control efforts for modest sized properties.
Similar to bio swales and detention ponds, rain gardens are effective at filtering water sediments and silt making it an environmentally friendly controlled drainage alternative too. Hal's Construction will happily design a unique rain garden that will seamlessly fit into your landscape and provide you with a lovely aesthetic to accompany its effective storm water collection and filtration capabilities. After a thorough examination of your property, we can determine together the best spot for your appealing, new rain garden. The advantages of rain garden design and installation in Portland, OR including Beaverton, Tualatin, and Gresham include:
Ecological benefits
Increased habitat for native wildlife
Decreased carbon dioxide in atmosphere
Affordably priced
Reduces risk of mosquito breeding
Recharges groundwater
Call Hal's Construction today to find out more about our exclusive rain garden design and installation services.