Asphalt Repair & Resurfacing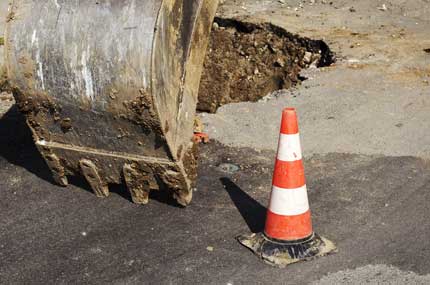 A major cause of failure to your asphalt is due to an inadequate sub-base. Areas begin to sink or develop multiple cracks known as alligatored asphalt. Water then soaks through these cracks and begins to breakdown the asphalt at an increasing rate.
Hal's Construction specializes in fast, efficient, and durable asphalt repair for your lot, street, court, or driveway, keeping those little imperfections from turning into dangerous problems.
Asphalt Restoration – Parking Lot Pothole Repair
Our company has compiled a team specifically to deal with asphalt restoration projects, ensuring that you not only receive gold standard treatment, but expert focus on your particular asphalt issue.
From minor asphalt crack repair to full-on overhauls of large paved areas, we're confident that we can restore your paved location to its former glory in less time than you imagine. Our crew has been carefully selected for their expertise, and our drug-free workplace policy means that you can trust our employees to be professional, punctual, and diligent on every asphalt repair job. Our attention to detail is the best, and when we work on your paving, you'll never have to worry about receiving a second-rate job.
Asphalt Crack Repair
Unfortunately, asphalt cracks won't seal themselves. In reality, dirt, stones, and debris will end up being blown or driven into small cracks, forcing the cracks to expand, and this is in addition to the stress from temperature fluctuations and vehicle or foot pressure. When you treat these cracks as soon as they appear, the elements have far less time to make the problem worse, which means far less headaches for you. We not only do asphalt repair but also excavation, paving and sealcoating as well!
Call Hal's Construction today and ask about our asphalt crack repair services; don't let the durability and beauty of your paving "fall through the cracks!"