Asphalt Removal and Replacement Services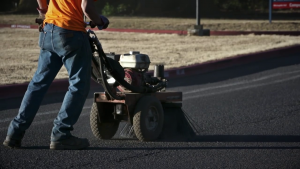 Roads aren't meant to last forever, and proper removal and replacement of surface asphalt is an integral part of maintaining your road surface. If it's on a parking lot, a service road, or a primary walkway, eventually that surface will degrade, from weather changes to sun exposure, the surface will begin to wear away. That's where Hal's construction comes in. Our highly trained team will remove the old road surface, inspect the subgrade, and replace and seal the new road with fresh asphalt. Resurfacing is important, not only to make your parking lot look good for customers, but it also aids with rainwater drainage, and improves the health of the vehicles that use it. Potholes damage vehicles. Filling them in a timely manner can save you the pain of replacing your suspension. 
Road Paving Services
The roads that run through your community could be rutted and filled with potholes. You might have cracks that are very hard on cars in the area, and you might have sections of the asphalt that have started to rise due to heat, cold, or seismic conditions in the area.
Resurfacing involves removing the previous road surface and replacing it with new (recycled) asphalt. After sealing the asphalt, Hal's construction can then add new lines and markings, making the surface look sharp and clean.
Seal Coating
Seal coating coats the surface in a thin film that will prevent cracks and damage. Blacktop on it's own is damaged by temperature changes, vehicle use, and even sun exposure. We highly recommend that you have your asphalt seal coated once a year just to renew the asphalt, or you could ask for multiple coats after a new installation is complete.
Residential And Commercial Concrete Services
Hal's also offers residential and commercial concrete services for sidewalk installation, driveways and service streets that need to be laid down as soon as possible. We can use concrete or asphalt, and either will be installed to your exacting specifications.
Asphalt Excavation
Asphalt removal and replacement requires a fair amount of excavation. The old blacktop needs to be removed, and hauled away to be recycled. Our team has refinished many road surfaces, giving us the experience to quickly and efficiently complete your project without leaving a mess. Blacktop removal is our specialty.
Contact Hal's Construction to get an estimate for the work that needs to be done, the time frame, and a design of the new road or parking lot you have ordered.
If you would like more information about our asphalt removal and replacement or to schedule a consultation, contact Hal's Construction today!