Asphalt Removal and Replacement Services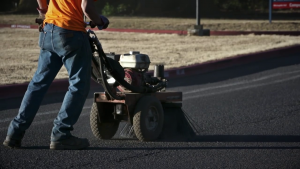 Asphalt removal and replacement is necessary when you have roads, parking lots, black tops, and service streets that must be replenished after many years of wear and tear. Contact us at Hal's Construction for top-level asphalt services. We provide you with a simpler way to keep the community beautiful, to prevent damaging potholes, and to prepare for an upcoming events.
Road Paving Services
The roads that run through your community could be rutted and filled with potholes. You might have cracks that are very hard on cars in the area, and you might have sections of the asphalt that have started to rise due to heat, cold, or seismic conditions in the area.
Road paving requires that the road is cleared, the road is paved with a brand new layer of asphalt, and the road is coated after the fact. You can get lining done, ask for a new layout for the road, and even have sidewalks installed in place or the slightly wider lanes you had in the past.
Seal Coating
Seal coating during the installation helps to coat the surface in a thin film that will prevent cracks and damage. We highly recommend you have your asphalt seal coated once a year just to renew the asphalt, or you could ask for multiple coats after a new installation is complete.
You get a much better result if you are using the seal coating as a way to protect yourself and your investment. Seal coating can help the asphalt last much longer than it would without it.
Residential And Commercial Concrete Services
Residential and commercial concrete services are needed when you have sidewalks to install, driveways to manage, or service streets that need to be laid down as soon as possible. We can use concrete or asphalt, and either will be installed to your exacting specifications.
Asphalt Excavation
Excavation must be planned when you are trying to tear up a whole parking lot or road. This is sometimes necessary when you are repurposing the space, or you need to excavate the whole area because there is no other way to lay a new layer of asphalt.
Contact Hal's Construction to get an estimate for the work that needs to be done, the time frame, and a design of the new road or parking lot you have ordered.
If you would like more information about our asphalt removal and replacement or to schedule a consultation, please contact Hal's Construction today.